Once farmers near retirement, the task to establish a succession plan can be a struggle for Black-owned farms, which could ultimately result in the land being sold. Often, family members are not interested or able to continue to work the land.
Black-owned farms make up only 1.7 percent of all U.S. farms, according to the 2017 Agriculture Census. The average age of a Black farmer in the U.S. is 60.1 years, while the average age of a White farmer is 57.5 years.
Recently, I spoke with two people who are aware of the statistics and are working to increase African Americans' participation in agriculture.
---
Will Scott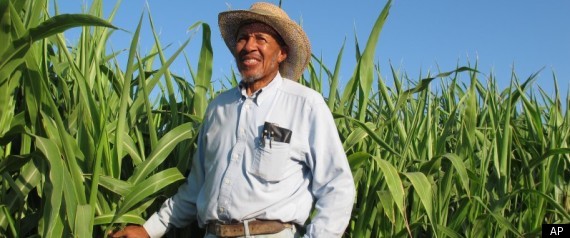 In 1997, farmer Will Scott organized the African American Farmers of California, a nonprofit organization based in f Fresno, California, with a mission to train the next generation of African American farmers. The 80-year-old believes it is important for African Americans and people of color to learn to produce food. The demonstration site consists of 18 acres and training lasts from 1 to 3 years, depending on each participant's needs and interests. Participants are charged $200.00 per year, which gives them access to 1 acre of land, instruction in farming techniques, and assistance with soil preparation.
Scott believes it is necessary for the next generation to learn how to farm, and that the training program will provide a boost to those interested.
"As people of color we have a part to play in this food production. We need to be in it, we need to play our part. … I think the next crisis we'll have is food – not only the quality of food but availability of food."
In addition to the hands-on training offered, technical support is provided by Fresno State Agriculture Research Institute and University of California Extension, as needed.
Currently, there are five families growing vegetables, in addition to a community organization that is raising sweet potatoes and producing value-added products.
Aside from supporting the 18-acre training program, Scott devotes 30 acres of land to growing market crops, including black eye peas, heirloom tomatoes varieties, jalapeno and habanero peppers, mustard and collard greens and spinach. Scott hopes his granddaughter will one day take over the farm once he retires. If not her, then maybe one of the program's graduates he has trained over the years. 
https://www.kvpr.org/post/small-farmers-fresno-county-discuss-challenges-operating-during-pandemic
---
Dr. Tammy Gray-Steele
I spoke with Dr. Gray a few weeks ago when I was trying to reach her uncle George Roberts, who is one of the farmers featured in season 5, episode 2 of "United Shades of America," produced by CNN and hosted by W. Kamau Bell. Go to CNN.com and click on the show page to learn about the struggles George Roberts and the other farmers featured in the episode are facing.
Dr. Gray-Steele was born into a farming family, which owns approximately 1000 acres of farmland in Oklahoma. She remembers as a child attending community meetings with her grandfather, who stressed the importance of landownership and community development to African Americans in his community.
Fast forward to 2008, armed with a law degree and corporate experience, Dr. Steele founded National Women In Agriculture Association (NWIAA), which, according its website, "is the largest agricultural organization for women in the world, and is committed to providing equality and sustainable opportunities to women farmers and at-risk youth."
To learn more about NWIAA, please visit the website:https://www.nwiaa.org